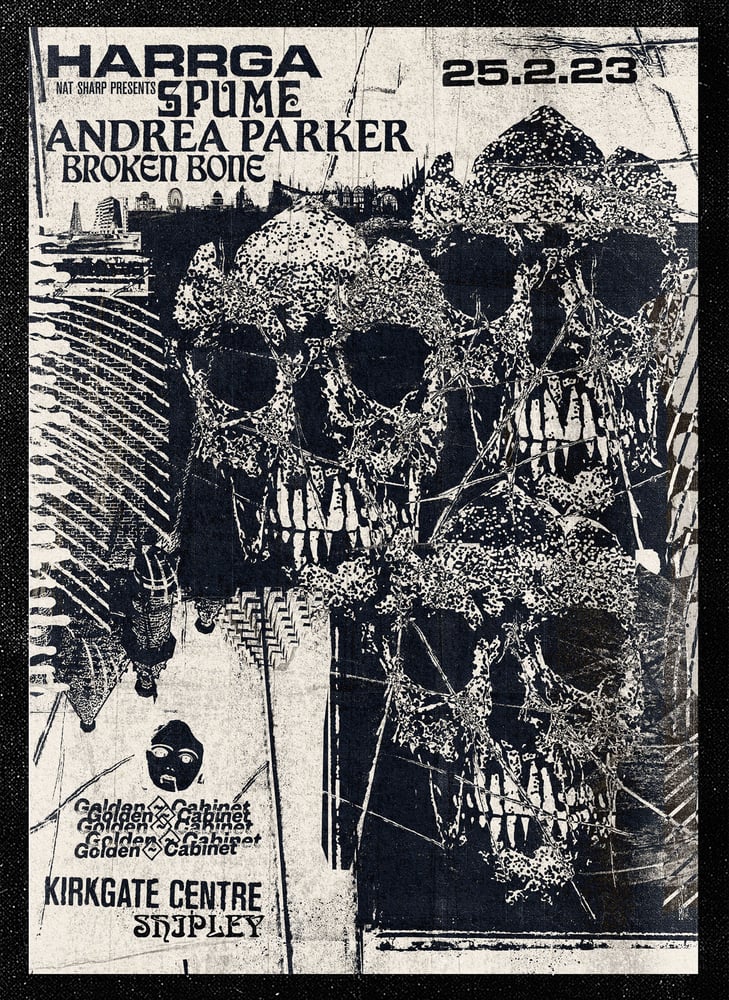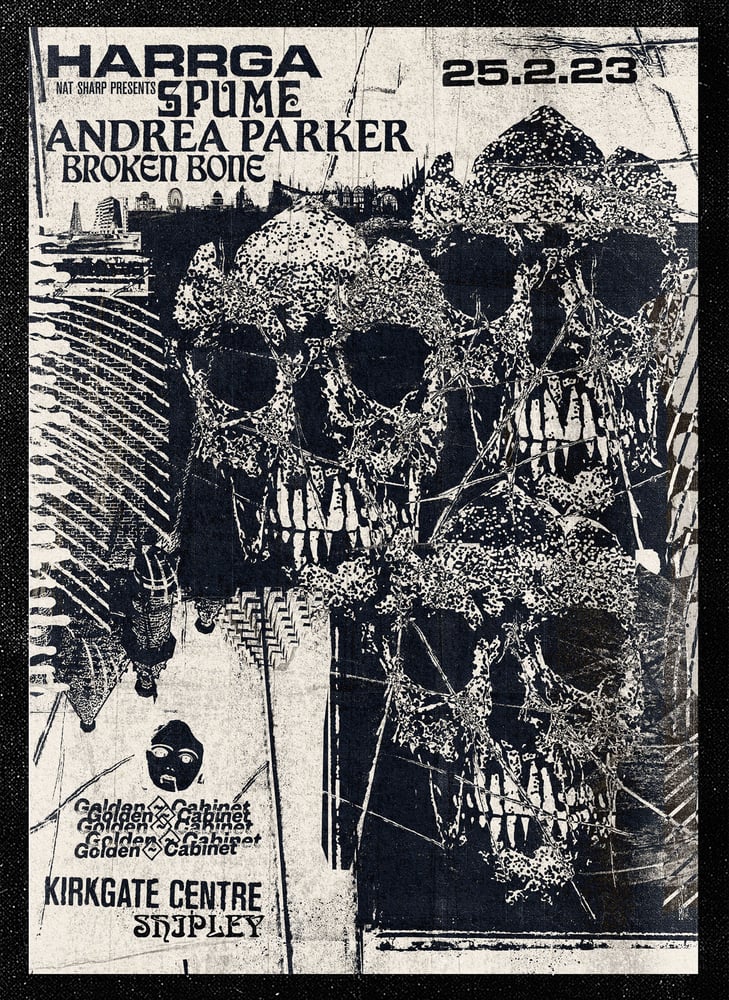 Harrga - 25.2.23
£16.00 / Sold Out
Harrga
Harrga ('a burn' in the Moroccan Darija dialect) is the duo of Miguel Prado and Dali de Saint Paul, however, on this occasion Dali will be performing a special Harrga set solo. The project pays tribute to the 'Harragas' (refugees who illegally cross borders, losing their identity after they must burn their papers). Alongside a chilling backdrop of avant-garde electronics, Dali's thrillingly intense vocal catharsis makes us hang on every word. A refreshingly original, utterly unique band that we can only describe as something like if Diamanda Galás had joined Whitehouse. Check out their 'Héroïques Animaux De La Misère' LP on Bristol's infamous Avon Terror Corps label for a bitter taste.
Nat Sharp presents Spume
Multi-disciplinary artist Natalie Sharp turned a lot of heads with her mind-boggling performances and subversions of pop music as Lone Taxidermist. She's also performed as part of Gazelle Twin's live show and provided vocals for Teeth of The Sea among others. For Golden Cabinet, she'll be premiering new work SPUME. 
In her own words:
Manifesting ways of being in clubs and music halls that are softer on the body, more inclusive, and less ableist. I want us all to lie down on the seabed. 
Flirt with liminal space, that ever-changing part where the sea greets the shore, offering up a cemetery of marine life. Morse code spiralling around conical shells. Underwater loving.
Welcome to the horizontalism cult.
Andrea Parker
Living legend Andrea Parker will be joining us as a very special guest DJ. Since the mid-90s Andrea has been a relentlessly creative force… Her numerous releases on Mo' Wax and DJ-Kicks mix are classics. Alongside Daz Quayle she re-interpreted pioneering archive material from BBC Radiophonic Workshop founder Daphne Oram into the future classic 'Private Dreams and Public Nightmares' album. The immaculate curation of her Touchin' Bass and Aperture labels have left an indelible mark on the electronic music landscape. 
Andrea is an impeccable selector, blurring the boundaries and joining the dots between everything from musique concrète, noise, hip-hop, electro, dark ambient, drum & bass and beyond. We're also pretty certain she's the only person on planet earth to have remixed Phillip Glass, Ryuichi Sakamoto, Steve Reich, and Depeche Mode. Whoa.
Broken Bone
We've managed to blag Broken Bone to crawl out of the void for an ultra-rare live performance. The duo of Daz Quayle (Black Labs/SCSI/IL.EK.TRO, Scarletron) and Tony Snowden's remarkably foreboding 'Willowbrook' record on Andrea Parker's Aperture label still gives us the fear around these parts. Their sound wields a deeply unsettling, ominous tension that's something approaching the paranoid psychosis of bad trip inside a Lynchian nightmare. Expect meticulous, vanta black sound design at the intersection of bleakest dystopian electronix and noise. Every comedown you've ever had, happening all at once.
Saturday February 25th 2023
7-11.30pm
The Kirkgate Centre
Shipley
BD18 3EH
100 tickets available at £15+ £1 booking fee
This is a DIGITAL TICKET - you will not receive anything in the post. Your email confirmation is your ticket, please bring this with you to gain entry.
We regret that we cannot issue refunds.
THANKS FOR YOUR SUPPORT!
The GC Crew xxxx